reEnamelware Series by
Alisa Looney
Betty Gray Art Gallery, June – August, 2023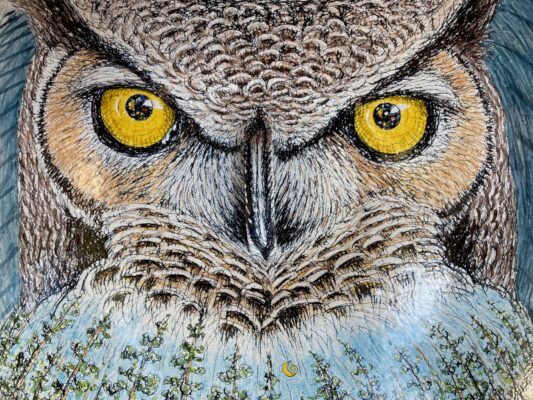 Wise One, Great Horned Owl, Interdependence Series, ReEnamelware, pan lid, 13″ diam.
The inventive ReEnamelware series, created by Alisa Looney and titled INTERDEPENDENCE, will be exhibiting June through August at the Betty Gray Art Gallery lower level at The Sunriver Resort Lodge in Sunriver, OR. Curated by the Artists' Gallery Sunriver, the show will run June 7 through the end of August 2023, with the opening reception on Second Saturday, June 10, from 4 – 6 pm.
This ReEnamelware series was made with repurposed enamelware, turning often-discarded household items into dynamic wall pieces. The artist searched for and found many of these intriguing enamel canvases at her neighborhood Second Tern Thrift Store, who's proceeds go to support our the Sunriver Nature Center & Observatory. The artist will also donate an additional 5% of proceeds from sales of this exhibition to the Sunriver Nature Center & Observatory, to support their mission to inspire present and future generations to cherish and understand our natural world.
The artwork has come full circle with a common purpose to celebrate and care for the health of our beautiful Northwest Ecosystem.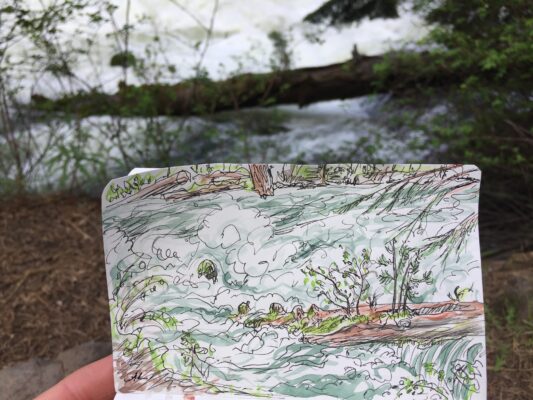 Benham Falls, plein air sketch by Alisa along the Upper Deschutes River.
Alisa Looney creates original images in glass by fusing kiln-fired layers of enamel to steel sculpture, jewelry and enamelware. Nature and its unseen connections inform her work. Sketching and documenting while on hikes, bikes, paddles and skis throughout the seasons, she observes nature and looks for signs of connection and movement … such as … seedlings sprouting through lava rock, clear water flowing and bubbling over snags, and fungi fruiting near tree roots from the hidden mycelium network.
For this series, each found enamelware shape was cleaned and pre-fired, then sprayed and painted with liquid enamel. Alisa manipulates the glass powder by scratching into it and adding more glass layers, transitioning between additive and subtractive processes, and kiln-firing each layer between 1350º F – 1450º F.
While drawing imagery into the glass enamel layer, Alisa envisions the interdependence of all living things. On the piece "Wise One," the chest feathers of the Great Horned Owl are depicted as a forest. The purpose of her work is to inspire the connection and care of our planet and each other, by bringing attention to the healthy ecosystems that we all depend.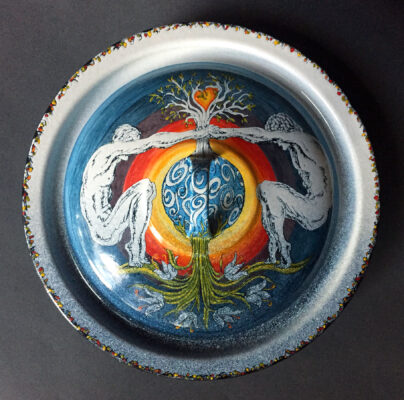 Hanging in the Balance, Symbol of working together to save our home. ReEnamelware, 9.75 in. diameter.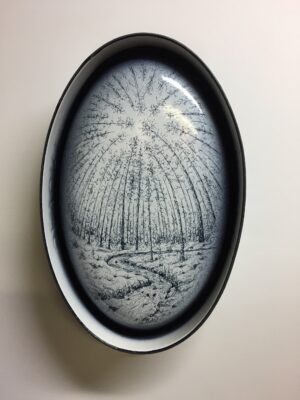 Rainier Winter, Inspired by a winter hike along a stream, ReEnamelware on roasting pan