EXHIBITIONS:
Three Art Openings in June 2023!
First up…
Alisa Looney and Wade Womack
are Exhibiting in
INTO THE DEPTHS
Opening Reception
Friday, June 2nd, 5-9 pm
Runs through July 30th
Runyan Gallery,
at the Newport Visual Arts Center,
777 NW Beach drive Newport, OR.
Pacific Northwest Sculptors Juried Exhibition – 31 artists…56 Sculptures!
If you are heading to the coast, be sure to stop in!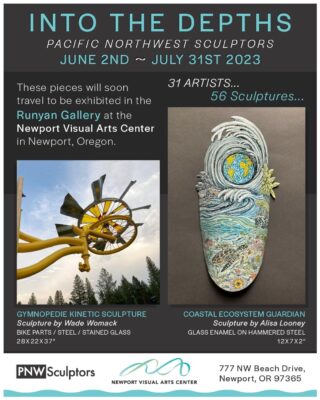 Next …I N T E R D E P E N D E N C E
reEnamelware Series by
Alisa LooneyBetty Gray Art Gallery
June – August, 2023

Opening Reception




Saturday, June 10th, 4-6 pm




Show runs June 7 through end of August


Betty Gray Gallery
Sunriver Resort Lodge
17600 Center Drive
Sunriver, Oregon, 97707

Wise One, Great Horned Owl, Interdependence Series, ReEnamelware, pan lid, 13″ diam.

This ReEnamelware series was made with repurposed enamelware, turning often-discarded household items into dynamic wall pieces. The artist searched for and found many of these intriguing enamel canvases at her neighborhood Second Tern Thrift Store, who's proceeds go to support our the Sunriver Nature Center & Observatory. The artist will also donate an additional 5% of proceeds from sales of this exhibition to the Sunriver Nature Center & Observatory, to support their mission to inspire present and future generations to cherish and understand our natural world.

While drawing imagery into the glass enamel layer, Alisa envisions the interdependence of all living things. On the piece "Wise One," the chest feathers of the Great Horned Owl are depicted as a forest. The purpose of her work is to inspire the connection and care of our planet and each other, by bringing attention to the healthy ecosystems that we all depend.
___________________
& third opening in June …
Featured Artist
New Enamel Works by
Alisa Looney
RECEPTION & DEMO
Forth Friday Art Stroll,
June 23, 4-7pm
at
Hood Avenue Art
357 W. Hood Avenue, Sisters, OR 97759
Original Enamel Sculpture, Wall Works and Jewelry
all hand crafted by Alisa Looney. Come see how the magic happens!
Abstract Landscape II – Porcelain Enamel (glass) on steel 12 x 12 inch panel, framed Enamel techniques used: decalcomania, sgraffito, kiln fired.
__________
MORE CURRENT EXHIBITS:
Red Chair Gallery, Bend, OR – Enamel and metal sculpture    www.redchairgallerybend.com
Hood Avenue Art Gallery, Sisters, OR, – Enamel jewelry     www.hoodavenueart.com
Artist Gallery Sunriver, Sunriver, OR – Enamel Sculpture     http://www.artistsgallerysunriver.com/gallery-information/
Guardino Gallery, Portland, OR – Enamel (glass) on steel  jewelry collection     www.guardinogallery.com
Matzke Fine Art & Sculpture Park, Camano Island, Washington – Outdoor Sculpture: Choosing from Within       www.matzkefineart.com
PERMANENT EXHIBITS
Maryhill Museum of Art, Outdoor Sculpture Collection, Goldendale, WA
http://www.maryhillmuseum.org/2013/visit/exhibitions/ongoing-exhibitions/outdoor-sculpture-collection
City of Cannon Beach, Sculpture Without Walls, Cannon Beach, OR
http://www.ci.cannon-beach.or.us/community/publicart.html
City of Lake Oswego, Gallery Without Walls, Lake Oswego, OR
http://www.artscouncillo.org/peoples-choice.html
City of Puyallup, WA, Arts Downtown Outdoor Gallery, Puyallup, WA
http://www.artsdowntown.org/PEOPLE_S_CHOICE.php
June Key Delta Community Center, Portland, OR
https://www.facebook.com/events/1678945159018628/
City of McCall, Public Art Collection, McCall, ID
https://2022.alisalooney.com/2015/09/
_____________
PAST EXHIBITS AND EVENTS
Alisa Looney Exhibits in ALCHEMY 6 – International Enameling Biennial
Two works by Alisa Looney are currently exhibiting in ALCHEMY 6, the 18th Biennial – International Juried Enamel Exhibition, sponsored by The Enamelist Society. The exhibition is intended to highlight the best in contemporary enamels, showcasing the work of enamelists that demonstrate aesthetic and technical expertise. The Jurors Ana Lopez, Amy Roper Lyons, and Jan Smith selected the following two enamel on steel works by Alisa Looney to be among the 72 artists represented.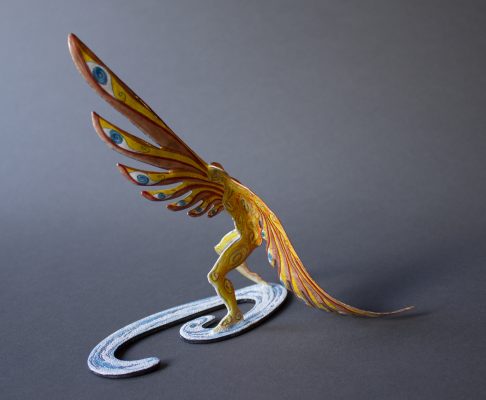 Humility Rising
Vitreous Enamel on Hammered and Welded Steel, 6.5 x 6.5 x 4.5 inches
Artist Statement: Humility Rising symbolizes our collective humility as a species, grappling with climate change and what we have created. The base is a symbol of a hurricane, nature's powerful response. The humble stature of the body has one wing down in humility and one wing reaching for the strength to fly. The image of many eyes, one on each feather indicates hope that we are waking up, looking in all directions, listening to nature and finding answers on how to best respond.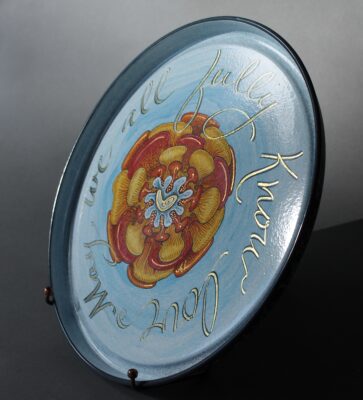 May We All Fully Know Love
Vitreous Enamel on Re-Enamelware, Platter, .8125 h x 13.25 w x 13.25 d inches
Artist Statement: This is my wish for the world. It is my hope that We All Fully Know Love, so the world will be a peaceful, hopeful and caring place. The truth of love calls us to feel deeply, to face challenges with kindness and care for one another.
The Alchemy 6 Exhibition will be on view in three cities in 2022 & 2023:
August 2 – September 2, 2022 – Arrowmont School of Arts and Crafts, Gatlinburg, Tennesee, with the opening reception Aug 5, in conjunction with the Enamelist Sociey Conference.
September 2022 – October 2022 – University of Arkansas, Little Rock
February 1, 2023 – April 15, 2023 – Ohio Craft Museum, Columbus, OH
__________
COMAG – Central Oregon Metal Arts Guild
Annual Show
Aug 27-29
OXFORD HOTEL – Ballroom
10 Minnesota Ave. Bend, Downstairs

Artwork above: Ring by Tyler Haas, Sculpture by Alisa Looney

Above: Earrings by Alisa Looney
Don't miss this opportunity to see the work of 28 Local Artists of the High Desert. Jewelry, Sculpture and Forged Steel at the Oxford this weekend … Enjoy!
We love this time of year, when we can open our doors to our friends and neighbors to drop by for for a cup of hot tea and good cheer. Tour our studio to see where we make our creations and where we offer our workshops. Browse our many handmade gift ideas for your loved ones, or find an original artwork for your home or office. Gift certificates available for both workshops and artwork for the person on your list who would love to choose their own unique gift.
Bring your friends and family! We would love to meet them!
OPEN STUDIO HOLIDAY SALE
Sat, Dec 7, 2019   –    10-6
Sun, Dec 8, 2019    –    12-6
enamel jewelry, ornaments, panels & sculpture by Alisa Looney
woodblock prints, paintings, coasters & cards by Wade Womack
& Local Guest Artist!  silver jewelry by Amy Pfeiffer
5% of Sales donated to plant a forest with Treesisters.org
17171 Island Loop Way, Bend, OR (Three Rivers)
503-367-3555 or 503-367-3267 – alisa@alooney.com
Gift Certificates & Classes Too! riverARTadventures.com
_______________
PAST EXHIBITIONS:
TRAVELING EXHIBIT:


Alchemy 5
17th Biennial International Juried Enamel Exhibition
Opens November 23, 2019
at the
Museum of Glass, Tacoma, WA
Save the date!
Feb 1, 2020
Alchemy 5 Celebration!
with Artists talks and more!
Watch for more info to come on this event!
Alisa is honored to have two of my enamel sculptures exhibiting in the Enamelist Society's 17th Biennial International Juried Enamel Exhibition "Alchemy 5." This photo was taken as you entered the LaVerne Krause Gallery during the Enamelist Society Conference at the University of Oregon in August. The Alchemy 5 Exhibit will travel to the Museum of Glass in Tacoma WA, Opening November 23, 2019 and running through May 2020.
__________________
MORE PAST EVENTS:
Thrilled to be teaching at the Carpenter Art Enamel Foundation this week in Bellevue Kentucky! Truly an honor to share with this community the enamel on steel techniques that I learned from John Killmaster, my teacher and renowned enamelist. So grateful for his blessing to pass these methods on so more artists can build their metal forms using steel and then fuse glass to the surface in lustrous colors, images and textures. https://lnkd.in/ecSYCCf hashtag#fusedglass
____________
International Sculpture Day Celebration
Don't miss our International Sculpture Day Event on April 21st, 4-10 pm with an amazing night of Artist Talks (6pm), Demos, Participatory Installations and a wonderful Exhibition of 30 sculptural works by Pacific Northwest Sculptors. (Alisa Looney's work shown in photos below)

Location: Art at the CAVE: 108 E. Evergreen Blvd., Vancouver, WA
Event:
https://www.facebook.com/events/161196481218180/
_______
Alchemy 4 – The Enamelist Society –
International Biennial Exhibition
Two of Alisa Looney's Enamel on Steel Sculptures:
Water Maiden, and Acceptance Series: Wave Dream (spirit mask), are presently exhibiting in Alchemy 4 – The Enamelist Society – International Biennial Exhibition which has traveled to three cities and is currently at it's final location: