I am excited to announce that the Chris Poole-Jones Memorial has been installed in front of the June Key Delta Community Center in North Portland.   It has been an incredible honor to be a part of this meaningful project.  Chris Poole-Jones was loved and respected by so many, for her generous heart, her commitment to community, family, friends, and the values she held dear.
Please join us for the
Dedication, December 19th, from 12 to 1:30 pm. 
The June Key Delta Community Center is located at 5940 North Albina Ave. Portland, OR 97217
(on the southeast corner of N. Albina Ave. and N. Ainsworth St., across from Peninsula Park Rose Garden).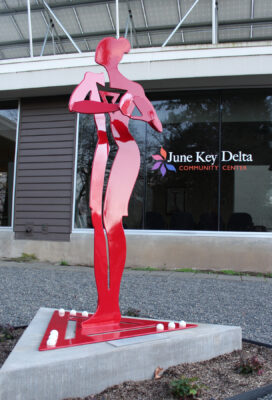 In a poised yet powerful stance this beautiful Delta Sigma Theta Soror forms with her hands the shape of the Delta triangle. This symbol represents her uncompromising commitment to make a difference for her community.
In her chest the Delta symbol takes the shape of a heart, representing her generous spirit of service that she so actively gave to transform her community.
Detail of Chris's hands in the shape of the Delta Symbol, framing her generous heart.
She is standing on a triangular base, a variation of the Delta design, with 9 pearls to represent the 9 cardinal virtues and the strong foundation these values create.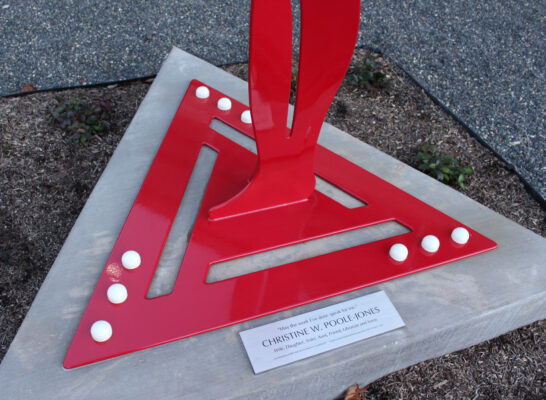 This memorial has been built to honor the late Chris Poole-Jones, who gave so generously of her time, money and talent to build the June Key Delta Community Center. She stood on this strong foundation, and that which was set by the late June Roe Runnells Key who's leadership made possible the purchase of this building. This memorial will symbolize the collective strength and vision of these women who gave so much of themselves, as well as the continued and empowering leadership of the Delta Sigma Theta Sorority in the community.
The plaque (pictured above) reflects this vision:
"May the work I've done speak for me."
CHRISTINE W. POOLE-JONES
Wife, Daughter, Sister, Aunt, Friend, Librarian and Soror.
Contributed by PORTLAND DEVELOPMENT COMMISSION
Powder Coated Stainless Steel Sculpture by ALISA LOONEY – 2015
Update:
photos from the Dedication on December 19, 2015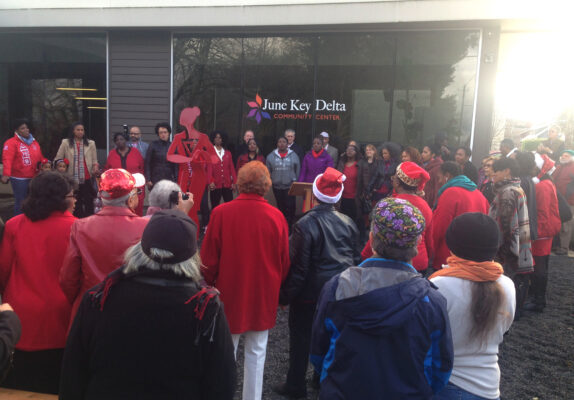 The Delta Sigma Theta Sorors surrounded the statue of their dear friend and sang such a beautiful and moving song. This melted my heart and confirmed that this was one of the most important pieces I have been commissioned to make. It has been an honor and a privilege to work with this lovely community of brilliant women. I am truly grateful to my dear friend Sunshine Dixon, who instigated this connection, and to Jean Loomis, for being such a joy to work with. Feeling blessed and thankful.