Two works by Alisa Looney are currently exhibiting in ALCHEMY 6, the 18th Biennial – International Juried Enamel Exhibition, sponsored by The Enamelist Society. The exhibition is intended to highlight the best in contemporary enamels, showcasing the work of enamelists that demonstrate aesthetic and technical expertise. The Jurors Ana Lopez, Amy Roper Lyons, and Jan Smith selected the following two enamel on steel works by Alisa Looney to be among the 72 artists represented.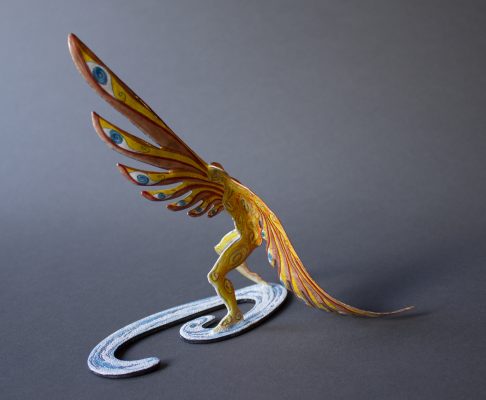 Humility Rising
Vitreous Enamel on Hammered and Welded Steel, 6.5 x 6.5 x 4.5 inches
Artist Statement: Humility Rising symbolizes our collective humility as a species, grappling with climate change and what we have created. The base is a symbol of a hurricane, nature's powerful response. The humble stature of the body has one wing down in humility and one wing reaching for the strength to fly. The image of many eyes, one on each feather indicates hope that we are waking up, looking in all directions, listening to nature and finding answers on how to best respond.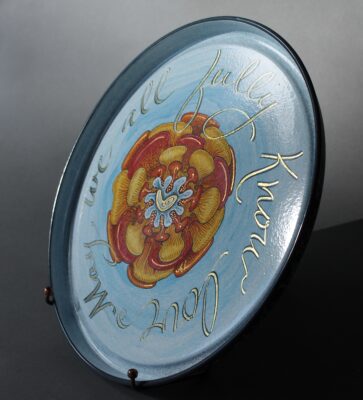 May We All Fully Know Love
Vitreous Enamel on Re-Enamelware, Platter, .8125 h x 13.25 w x 13.25 d inches
Artist Statement: This is my wish for the world. It is my hope that We All Fully Know Love, so the world will be a peaceful, hopeful and caring place. The truth of love calls us to feel deeply, to face challenges with kindness and care for one another.
The Alchemy 6 Exhibition will be on view in three cities in 2022 & 2023:
August 2 – September 2, 2022 – Arrowmont School of Arts and Crafts, Gatlinburg, Tennesee, with the opening reception Aug 5, in conjunction with the Enamelist Sociey Conference.
September 2022 – October 2022 – University of Arkansas, Little Rock
February 1, 2023 – April 15, 2023 – Ohio Craft Museum, Columbus, OH