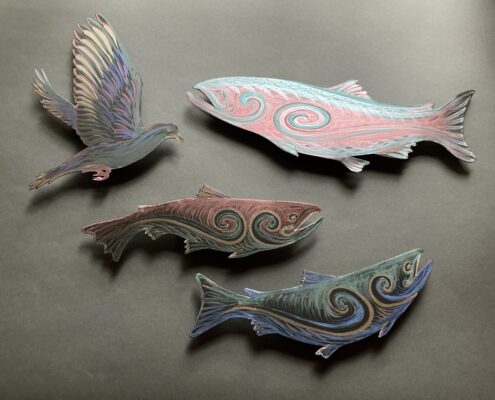 Clockwise from upper right: JOY (bird in flight), STRENGTH (large salmon red, green, gold), JUMP (green, blue, gold salmon), and GLIDE (red, green, gold salmon), Enamel and Lusters on Steel Wall Reliefs by Alisa Looney
I've been enjoying making this new line of wall relief enamels.

After test marketing at the Red Chair Gallery in downtown Bend, the results have been positive! So far I have sold two of the larger salmon "STRENGTH," like the one shown on upper right and one of the birds in flight "JOY," shown on the upper left.

Painting freely with these iridescent lusters and micas is direct and satisfying. I have more in the works and am busy designing and cutting new shapes with hand shears from large sheets of pre-enameled steel.

They hang 3/4 " out from the wall, using custom french cleats crafted by my husband and master framer Wade Womack.

I'm so grateful to my collectors and supporters!
Thank you!